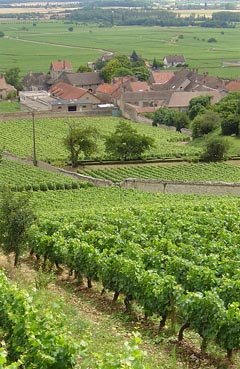 The Burgundy region is one of the great historic regions of France; indeed, in the Middle Ages, Burgundy was the great dukedom which rivalled in power and prestige with the kingdom of France itself; in those days it covered a large part of central eastern France, including half of modern-day Switzerland.Today, Burgundy is one of the administrative regions of France, lying astride the main lines of communication between Paris and Lyon; anyone travelling by train or on the French motorway network between Paris or north-east France, and Lyon and the south of France, must pass through Burgundy. The region is bordered by the river Loire, in the west, and by the Franche-Comté and Champagne regions in the east. To the south it is bordered by the Rhone Alpes region.
The Burgundy region is made up of four French departments. Northern Burgundy comprises the department of the Yonne (89), capital Auxerre, a rolling agricultural area bordering on the outer fringes of the Paris region. In the west, the Nièvre (58), capital Nevers, is a hilly department that includes the highest peak of the Morvan hills (Le Haut Folin, 903 m), and a large part of the Morvan regional nature park. The Côte-d'Or department (21), around Dijon, is hilly in the north west, and flat in the south east; finally the department of Saône & Loire (71) in the south of the region stretches from the banks of the Loire in the west to the foothills of the Jura in the east, and includes large flat expanses of the Saône valley.
The historic and modern capital of the Burgundy region is Dijon (population 150,000), a thriving administrative and cultural centre, which is also a major communications and freight-distribution hub. The city is just 1hr. 40 mins. from Paris by direct TGV high-speed train service. Dijon has a historic city centre, with old narrow streets, and houses built in the local pale honey-coloured stone; of particular interest to visitors are the Palace of the Dukes of Burgundy, and the gothic Cathedral of Saint Bénigne.
The world-famous Burgundy vineyards mostly cover a narrow strip of land running south from Dijon, on the western fringe of the Saône plain.
How to reach the Burgundy area :
By TGV train from Paris Gare de Lyon, or from Lille; train from many cities, motorway from Paris, Lille, Strasbourg, Nancy, Lyon, Geneva.
By air: There is currently no commercial airport in the Burgundy area operating regular international flights. The north of the region is accessible from the Paris airports, the south of the region is closer to Lyon St Euxpéry airport