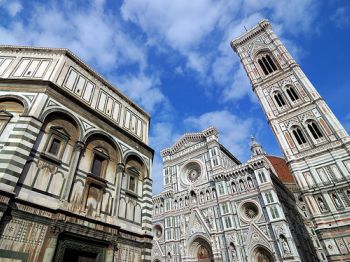 Florence
is a must-see city for any art lover, but its delights reach far beyond the museums and galleries. According to some, the city itself is a piece of art. Have you heard of
Stendhal syndrome
, that supposed illness that causes sufferers to grow faint at the sight of great beauty? It also goes by the name "Florence syndrome," as it was first coined after 19th century visitors to Florence were overcome.
These days, you're just as likely to see unbalanced tourists stumbling through the city on a pub crawl as you are visitors taken aback by the sheer volume of art Florence holds, but whichever side draws you more Florence is one of the big three stops in a tour of Italy.
There's some basic visitor information for Florence on this page, and there is also quite a bit more information in other articles on the site. So while you'll get a start with your trip planning by just scrolling and reading what's here, I encourage you to click through to the articles linked throughout for more details to help you with your travel research.
Where to Stay in Florence
Florence is one of those cities that's busy year-round between foreign tourists and Italian visitors, so it's crammed with accommodation options – but it's still a good idea to do a little research about where in the city you want to stay and what you'll get for your money.
Luckily, the historic center of Florence is easily walkable – so as long as you stay in the center you'll be able to get to all the main sights on foot.
What to Do in Florence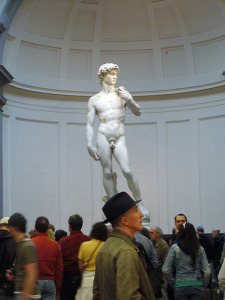 While it is possible – easy, in fact – to spend a week or more in Florence and still not see everything there is to see, it's likely you will have other things on your Italian holiday agenda and will want to move on after a few days. If you can spare it, Florence deserves at least three days, if not four or five. And even if you think you're not interested in art, consider setting aside some time for the big museums anyway – these are no ordinary art museums, these are the art museums you will read and hear about for the rest of your life. With any "extra" time you find you have in Florence, you can always take a day trip or two outside the city as well.
The list of must-see sights in Florence almost makes the city seem greedy. There are beautiful churches and museums which would be the A-number-one attraction in another town, but in Florence they are relegated to the back burner of "if you have time." It's an embarrassment of riches, and we as visitors are the benefactors. I know I, for one, am not complaining.
Even with a few solid days in Florence, it pays to organize your time wisely. This is a busy Italian city, full of Italians as well as tourists, and the main tourist sights are some of the biggest in the entire country. Lines can be prohibitively long, and many of the indoor sights are small enough that you could be looking at the backs of peoples heads as much as you are looking at art. These articles will help you figure out what to see and do in Florence, as well as how to avoid the long lines.
And as I said at the outset, although the emphasis in Florence is typically on the art in the city, there are non-artsy things to see and do in Florence. Two of the non-art things Florence is most famous for – and that I think are well worth some of your time in the city – involve eating and shopping.
While Milan and Rome may be more well-known for their high-end shopping opportunities, Florence is home to a couple of outdoor leather markets that are fun to explore even if you aren't in the market to buy anything. The entire region is known for its leather work, so you'll find purses, belts, jackets, shoes and just about anything else you can imagine leather being made into (leather garbage pail, anyone?) in the city's shops and the outdoor markets. In the markets, prices are more flexible, so don't be afraid to haggle a bit. For the regular shops, sale periods are scheduled and happen a few times a year – thankfully, one of them is right in the middle of the peak summer season, so you might see the word "Saldi" in many a store window. That just means "Sale," so have fun.And although you'll find gelato shops all over Italy, many consider gelato in Florence to be the best in the country. You may or may not agree with that sentiment, but I still encourage you to sample liberally while you're in the city. After all, you can't weigh in on a "best gelato in Italy" conversation unless you've eaten gelato in Florence.