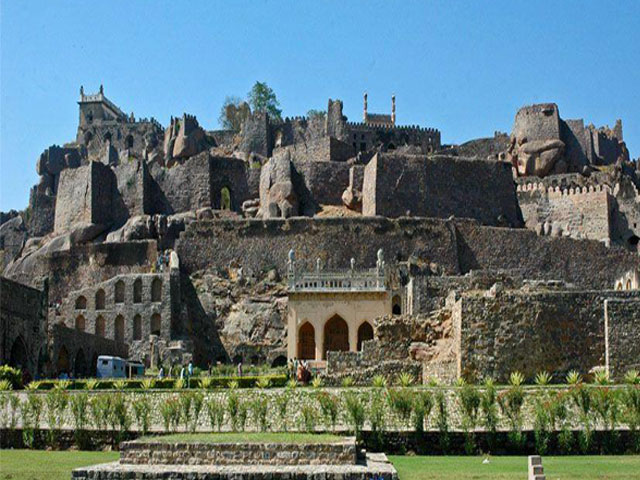 Golconda is one of the famous forts of India. The name originates from the Telugu words "Golla Konda" meaning "Shepherd's Hill". The origins of the fort can be traced back to the Yadava dynasty of Deogiri and the Kakatiyas of Warangal. Golconda was originally a mud fort, which passed to the Bahmani dynasty and later to the Qutb Shahis, who held it from 1518 to 1687 A.D. The first three Qutb Shahi kings rebuilt Golconda, over a span of 62 years. The fort is famous for its acoustics, palaces, ingenious water supply system and the famous Fateh Rahben gun, one of the cannons used in the last siege of Golconda by Aurangzeb, to whom the fort ultimately fell.
Sound & Light Show at Golconda Fort: Ph: 23512401
The glorious past of Golconda Fort is narrated effectively with matchless Sound and Light effects. The unique Sound & Light Show takes you right back in time, when Golconda was full of life, glory and grandeur.
Qutb Shahi Tombs: The tombs of the legendary Qutb Shahi kings lie about a kilometre away from Banjara Darwaza of the Golconda Fort. Planned and built by the Qutb Shahis themselves, these tombs are said to be the oldest historical monuments in Hyderabad. They form a large group and stand on a raised platform. The tombs are built in Persian, Pathan and Hindu architectural styles using grey granite, with stucco ornamentation, the only one of its kind in the world where an entire dynasty has been buried at one place.